Autoimmune patients need third corona vaccination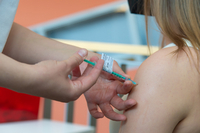 Researchers from Erlangen prove the benefit of booster vaccination in people with rheumatism and inflammatory bowel and skin diseases
Many patients with autoimmune diseases such as rheumatism, ulcerative colitis or psoriasis have to take medication that influences the immune system. The immune system is also responsible for the effectiveness of vaccinations; therefore, many autoimmune patients wonder whether immunisation against SARS-CoV-2 is safe for them – i.e. whether it takes place without vaccination complications, works just as well and lasts just as long as it does for healthy people. A large study at the German Centre for Immunotherapy (DZI; spokespersons: Prof. Dr. Markus F. Neurath and Prof. Dr. med. univ. Georg Schett) at the University Hospital Erlangen has now been dedicated to this important topic. The results have now been published in the renowned journal "The Lancet Rheumatology".
In the prospective study, the interdisciplinary research team of the DZI examined a total of more than 3,700 patients and healthy volunteers who had been vaccinated twice or three times against the coronavirus. The results are reassuring for autoimmune patients: the immunisation was well tolerated by most of those examined, and there was no difference between the healthy and the autoimmune subjects. In addition, the majority of the patients formed protective antibodies against the coronavirus. Another interesting and very important finding is that people with autoimmune diseases generally show a weaker immune response after two corona vaccinations than healthy people, and their vaccine protection is lost more quickly in comparison.
"The faster loss of the immune response in patients with autoimmune diseases is additionally intensified by age and certain therapies," emphasises PD Dr. David Simon from the Department Medicine 3 – Rheumatology and Immunology (Director: Prof. Dr. med. univ. Georg Schett) of the University Hospital Erlangen, who supervised the study. In concrete terms, this means: "Older patients lose their immune protection more quickly after corona vaccination than younger patients." His colleague Dr. (TR) Koray Tascilar adds: "Some drugs that target specific immune cells such as T and B cells seem to have an inhibitory effect on the short- and long-term immune response. Therefore, it is likely that this group of patients in particular will benefit from a rapid third vaccination."
The study also provided evidence that immune protection increased significantly in patients with autoimmune diseases who received booster vaccination. "Individual booster vaccinations make sense!" concludes Prof. Schett. "Adjusted vaccination schedules with earlier booster vaccination could ensure better protection for people with autoimmune diseases."
The study was conducted at the German Centre for Immunotherapy at the University Hospital Erlangen under the direction of Prof. Schett, Prof. Neurath, Prof. Dr. Carola Berking and Prof. Dr. Michael Sticherling, Director and Deputy Director of the Department of Dermatology, respectively. The researchers were supported by funds from the Free State of Bavaria, the Schreiber Foundation and the German Research Foundation (Sonderforschungsbereich 1181; DFG-FOR2886).
Link to publication: https://www.thelancet.com/journals/lanrhe/article/PIIS2665-9913(22)00191-6/fulltext#articleInformation
Contact
Prof. Dr. med. univ. Georg Schett
+40 9131 85-39109
georg.schett(at)uk-erlangen.de