Projects 2015 – 2019
Checkpoint A: Switch from pro- to anti-inflammatory cytokine response


It is known that inflammation is based in subsequent waves of white blood cell infiltration guiding the onset, peak and resolution of inflammation. The early phase of the inflammatory response is dominated by cells named neutrophils (neutrophil granulocytes belong to white blood cells), its later phase is characterized by scavenger cells so-called macrophages and particularly eosinophils (a subgroup of leucocytes, the white blood cells) during the resolution phase of inflammation. It's tempting to speculate that effective resolution of inflammation has to overcome pro-inflammatory cytokine production by macrophages. Macrophages belong to the key cytokine producers in the body. And cytokines are regulatory proteins which trigger the inflammation process. The switch from the pro- to the anti-inflammatory cytokine responses seems to be one level of decision if inflammation becomes chronic or not. So it is important to decipher the cellular mechanisms which control this switch.
Checkpoint B: Blockade of pro-inflammatory lymphocyte activation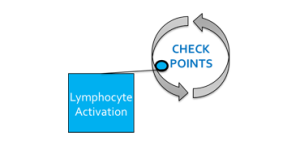 The blockade of pro-inflammatory lymphocyte activation, refelcting a break of immune tolerance, may precede the onset of chronic inflammatory diseases, as observed in rheumatoid arthritis. Such sequence of pathologic events appears to be absent in other forms of chronic inflammatory diseases such as Crohn's disease. Chronic inflammatory diseases are characterized by a consistent activation of the adaptive immune system and the appearance of lymphocytes, cellular blood components which include T cells, B cells and natural killer cells, in the inflammatory lesions.
The scientists in Erlangen hypothesize that the pattern of T cell activation in inflammatory disease may emerge as a crucial checkpoint controlling either resolution of inflammation or its chronification. It can be assumed a tight cross talk of T cells with the macrophage polarization and other regulatory innate processes as described above as well with resistant tissue cells that together will determine the outcome of an inflammatory process.
Checkpoint C: Fostering of tissue remodeling by cell death and tissue repair mechanisms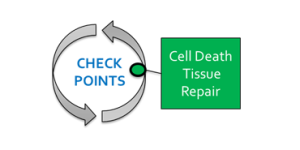 Resolution of inflammation requires the controlled removal of immune cells to debunk the inflammatory infiltrate. In addition, resolution of inflammation is accompanied by tissue responses entailing the repair and/or the replacement of damaged tissue. Effective resolution therefore has to allow for the death or evasion of immune cells and for a directed response by resident tissue to reconstitute the tissue architecture at the site of former inflammation. These tissue responses do not only have a limit inflammation but they may also exert intrinsic anti-inflammatory effects. How cell death and reprogramming of resident tissue cells and immune cells contribute to the resolution of inflammation and repair will be investigated within the third step of decision.