Projects 2019 – 2023
Checkpoint A: Switch from pro- to anti-inflammatory cytokine response


Within the first funding period, a groundbreaking discovery could be made within the project block of the checkpoint A, which deals with the control of messenger substances (cytkoins). The messenger IL-9 has been identified as a major control cytokine in the resolution of arthritis in model and clinical studies. (Rauber S et al. 2017.). In particular, these results foster the concept of situation-dependent resolution mechanisms, since IL-9 is more pro-inflammatory than pro-reolving in inflammatory bowel diseases (Gerlach K et al. 2014.). Further, pro-resolving functions of the TH2 cytokines IL-4/IL-13 and IL-5, which are otherwise involved in the development of asthma, were discovered within the CRC1181 in arthritis. Our observations clearly indicate that the TH2-eosinophilic axis exerts immunoregulatory effects in arthritis and thus provides molecular evidence for the concept of the "eosinophil-driven dawn of recovery" first described by Paul Ehrlich in 1879 (Chen Z et al. 2016.). In accordance with this concept, helminth infection has been shown to inhibit autoimmunity (Sarter K et al. 2017.) and type 2 congenital lymphocytic cells have been identified as proliferant and disease controlling properties in murine and human arthritis (Rauber S et al. 2017.; Soare A et al. 2018.; Omata Y et al. 2018.). Pro-resolving effector functions were attributed to macrophage polarization towards an anti-inflammatory STAT6 expressing phenotype orchestrated by the AP-1 transcription factor c-Jun (Hannemann N et al. 2017.). In this context, the most important preliminary data for the next funding period suggest that the polarization of macrophages by IL-4 and IL-33 differs fundamentally in the resolution of inflammation: The IL-33-induced expression of the transcription factor GATA-3 in macrophages serves as a central control switch for the resolution of inflammation after tissue damage by controlling the metabolic function of macrophages (Faas et al., Project A03; unpublished observations). In contrast, GATA3, a master control transcription factor for type 2 immune reactions, makes colitis chronic rather than soluble (Popp V et al. 2017.), which suggests organ-specific molecular control of the resolution and chronicity of inflammation in the intestine. This result has also enabled the initiation of a Phase 2a clinical trial with DNAzyme targeting GATA3 to resolve inflammation in colitis. In a model of allergic lung disease, IL-27 was identified as an important cytokine that orchestrates the resolution of inflammation.
Checkpoint B: Blockade of pro-inflammatory lymphocyte activation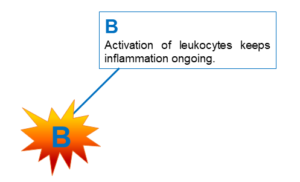 The projects in this block B focus on molecular mechanisms of adaptive immune responses that determine the resolution and chronicity of inflammation. In the first funding period, two T-cell-related factors were identified that control resistance to the resolution of inflammation in colitis: IL-23 receptor secretion on intestinal T cells allowed to avoid the resolution of inflammation caused by tumor necrosis (TNF) antagonists (Schmitt H, et al. 2018.), while IL-7 receptor secretion on intestinal T cells prevented the resolution of colitis during graft-to-host disease by activating the transcription factor BATF (Ullrich E, et al. 2018.). In addition to the T cell mechanisms, several humoral mechanisms were deciphered that prevent the resolution of the autoimmune disease. In particular, in a clinical study with patients with rheumatoid arthritis, autoantibodies were identified as major factors for the failure of effective resolution (Figueiredo CP, et al. 2017.). Furthermore, it was recognized that cytokine-mediated regulation of antibody glycosylation and selective binding of Fc receptors are mechanisms that allow chronic inflammation rather than resolution (Lehmann CHK, et al. 2017.). Finally, the cytokine-based mechanisms regulating the inflammatory or pro-resolving properties of antibodies were carefully analyzed in the first funding period, which led to the discovery that IL-23 is a key signal promoting the pathogenicity and chronicity of antibody inflammation (Pfeiffle R, et al. 2017.).
Checkpoint C: Fostering of tissue remodeling by cell death and tissue repair mechanisms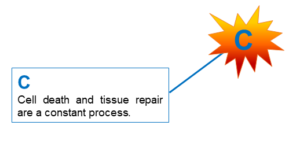 In the first funding period of the CRC1181, new insights were gained into neutrophil death and the formation of DNA networks by neutrophil granulocytes (NET) in degradable cytokines and thus mitigating inflammatory reactions (Hahn J, et a. 2019.). While NETs are effective in limiting inflammatory reactions, aggregated NET formation can also lead to harmful blockage of blood vessels (Lepples M, et al. 2016;  Jiménez-Alcázar M, et al. 2017.). Several new findings from this CRC relate to factors of intestinal epithelial homeostasis that control the resolution of inflammation. The cytokines IL-28 (Chiriac MT, et al. 2017.), IL-33(Mahapatro M, et al. 2016.) and IL-36 (Scheibe K, et al. 2017.) as well as the intracellular enzyme caspase-8 (Ruder B, et al. 2018.) are decisive factors for the maintenance vs. resolution of inflammation and a strong influence on epithelial homeostasis. Furthermore, within the CRC1181 consortium, a homeostatic macrophage-membrane-like surface structure could be defined in the joints, which share some of the molecular properties of epithelial cells (Culemann S, Grueneboom A, in Press.). Such structures control inflammatory processes in the joints by providing an immune barrier function. With respect to resident tissue responses associated with inflammation, it was found that transcription factor PU.1 serves as the main control switch for resident tissue activation (Wohlfahrt T, et al. 2019.). Furthermore, upstream of PU.1, SHP2 (Zehender A, et al. 2018.) and STAT3 (Chakraborty D, et al. 2017.) act as important control points for tissue fibrosis. Data from the CRC1881 consortium also showed that both in the model and in humans IL-36 signalling is associated with intestinal tissue fibrogenesis (Paduch K, et al. 2019.). Finally, arginase 1 (which is regarded as a marker for dissolution-promoting M2 macrophages) proved to be dispensable or even harmful for tissue repair in colitis (Scheibe K, et al. 2018.).